Fairchild Bariatric Recliner
">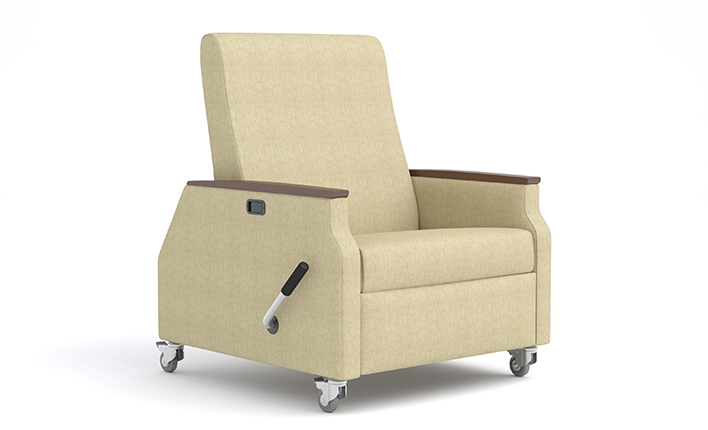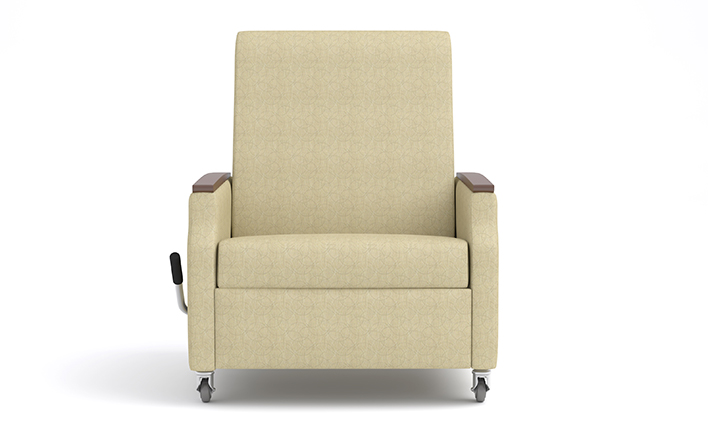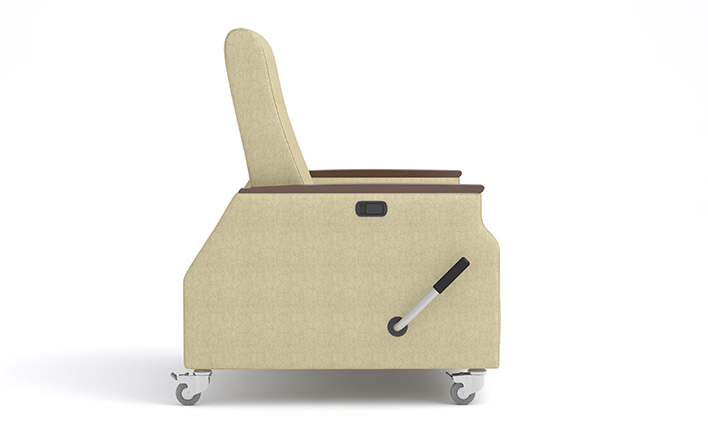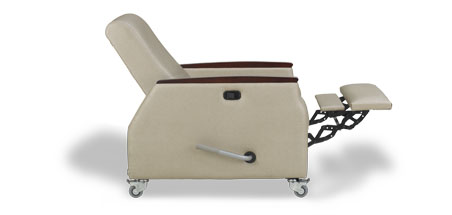 Product rs2260ba
800 lb weight capacity
3″ diameter, locking, non-marring front and rear casters for ease of steering and mobility
non-marring rubber casters
increased seat and back width for more comfort
infinite position reclining system up to 45 degrees to accommodate user's preferred positioning
heavy-duty steel handle for footpiece activation to provide durability through consistent use
Measurements
| | w | d | h | sw | sd | sh | ah |
| --- | --- | --- | --- | --- | --- | --- | --- |
| rs2260ba | 37 | 41 | 43 | 29 | 21 | 19 | 27 |
Product Options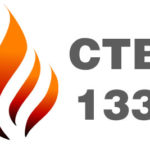 CTB-133 Compliance
Compliance with CTB-133 requirements is available for select fabrics.  Also, Durfold provides testing services for any other fabric choices you are interested in.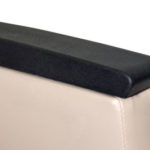 Urethane Arm Caps
Black urethane arm caps have excellent tactile properties and an ability to be 98.5% antimicrobial.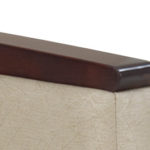 Wood Arm Caps
Oak and Maple species are available in a wide array of stains.  All wood arm caps are finished with the most durable finish available: pre-catalyzed conversion varnish.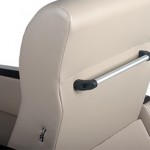 Push Bar
Stainless steel tube with polyamide glass ball reinforced shanks. Component width is approximately 16″
Tray Table
High density polyethylene surface for ease of cleaning and durability with chromated steel bracket rated for 44 lbs and two additional steel support hinges. Tray has solid surfaced top with recessed cup holder and spill-guard edging.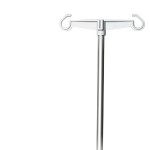 IV Pole
Aluminum pole with two light gray, plastic hooks. Connected to chair with stainless steel bracket with adjusting knob for ease of setting various heights .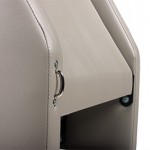 Foley Bag Holder
Marine grade, nickel plated brass fitting sized for up to 1 1/4″ x 3/8″ opening.
Patient Alarm Storage Pocket
Soft shell pouch in matching fabric and provided with vinyl fabric inner-lining for ease of cleaning. All seams receive sturdy stitching and connected to chair instead of stitched into chair for ease of servicing or replacement.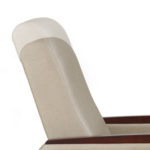 Extended Back
To accommodate taller-than-average users or to provide a longer sleeping surface, this product's back can be extended four inches.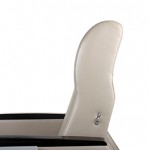 Integral Head Pillow
Shaped head pillow for extra support built Into back so that pillows can not be separated from chair and ease of cleaning and sterilization.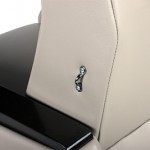 Patient Stability Attachments
Marine grade, chrome plated zinc straps located on both sides of back and arms for assistance in stabilizing patients to avoid unintentional self-injury or harm.
Patient Transfer Arm
Powder-coated steel structure with ABS bracket housing to allow arms to fold down for easy transfer of the patient.  Please refer to our feature webpage  on the patient transfer arm for more information.
Central Locking Casters
Non-marring casters provided with a three position pedal activator for either total lock or total unlock of caster wheels and swivels, as well as, an intermediate position that enables a directional lock on the front casters for ease of steering.